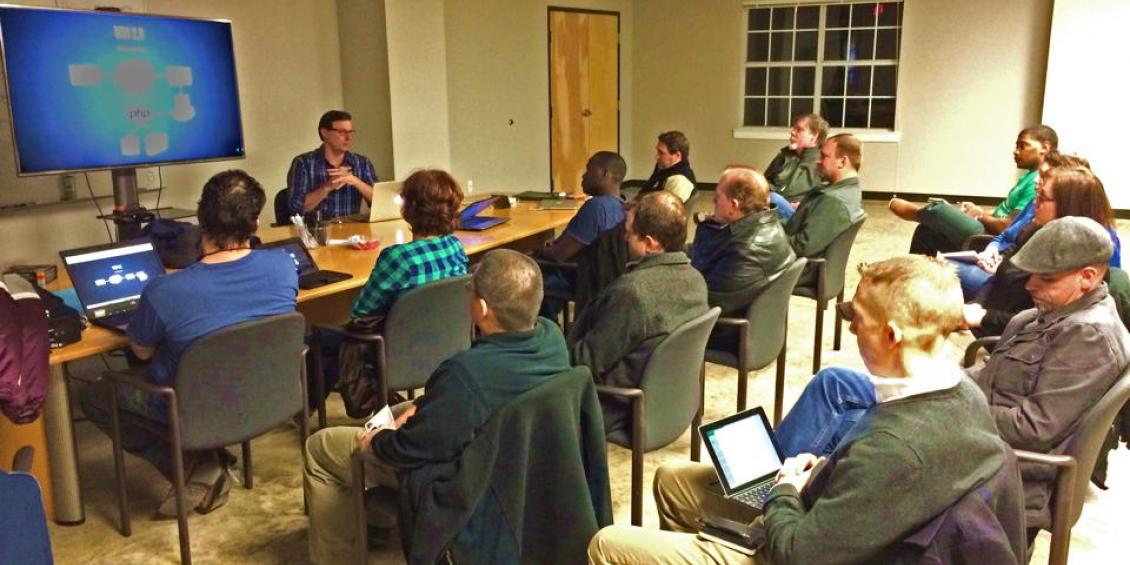 We had a nice turnout last night for the North Texas Drupal users group. And we just cleared 100 members! You need to join us on our Meetup page to learn about all our upcoming meetups.
First up was the various Drupal ecosystem updates:
DrupalCamp New Orleans is on March 28th. Beignets and Drupal- can't beat that!
DrupalCon LA starts on May 11. Only one week to submit session proposals. Although we all know that only the big sponsors get selected, but you can try anyway.
CiviCon 2015 starts on Apr 23 in Denver. The conference site should be up soon.
BackDrop CMS had their 1.0 GA release. This was the fork of Drupal made a year or so ago. You can spin up an instance to play with on Pantheon.
Lots of great Drupal podcasts out there to help you keep up while commuting or exercising. Dropcast, Drupal Easy, Drupalize.me are all Drupal-focused. Others of interest: Hacking Culture (open source), http://fullstackradio.com/ (dev), and The Changelog (dev)
Wonder when Drupal 8 will release? DrupalReleaseDate.com uses Monte Carlo Simulation to take as good a guess as anyone. Says Oct 29th right now.
Weather.com was launched by MediaCurrent, making it the most heavily used Drupal site developed to date. And, it has a AngularJS front end!
And that's what Travis presented - using AngularJS as a front end to Drupal. His presentation is on his website - http://travistidwell.com/
Next, I spoke on Structural SEO in Drupal - how the construction of your Drupal website affects its search engine placement … and conversions … directly and indirectly. My 75 slides aren't that useful without me talking about them, but I will be turning it into a more readable document shortly and it will be available on our website.
Next month - It's all about the Drupal 8! See you then.